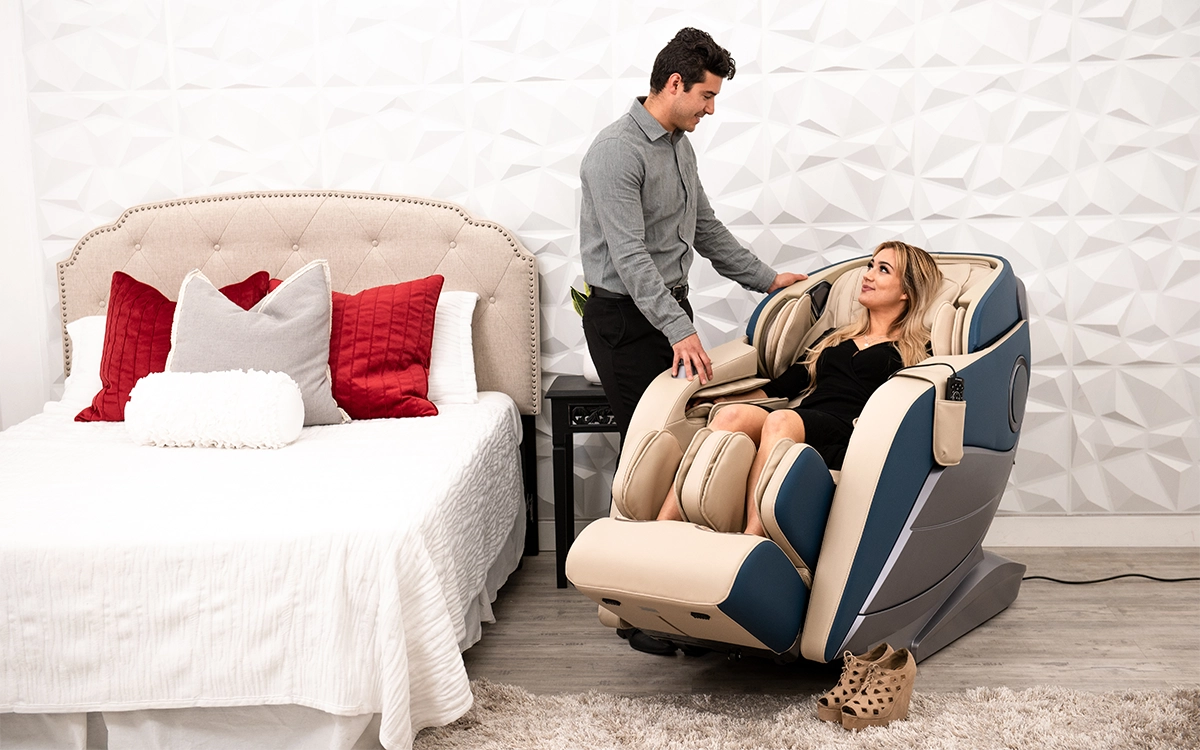 Massage Chairs
The Only Massage Chair Line You Can Purchase With your HSA/FSA Account
Save $200.00
Save $2,000.00
Save $4,000.00
Save $3,500.00
Save $3,500.00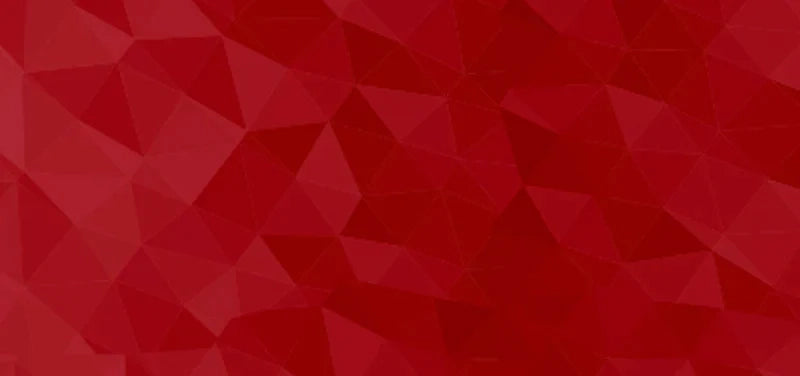 If you have a HSA or FSA card, you can use it as a Credit Card at Checkout!
Our Massage Chairs Are HSA/FSA Eligible
GET MORE DETAILS
If you are looking for the ultimate comfort source to relax your muscles and treat chronic body pains, buying a reliable massage chair is one of the best choices you can make. Zarifa USA has been a pioneer in the development of high-quality full-body massage chairs for decades. All the massage chairs produced by Zarifa USA provide an excellent massage with guaranteed positive results. Best of all, our massage chairs are Flexible Spending Account and Health Savings Account eligible.
Zarifa USA Massage Chair Overview

If you are looking for the ultimate comfort source to relax your muscles and treat chronic body pains, buying a reliable massage chair is one of the best choices you can make. ZarifaUSA has been a pioneer in the development of high-quality massage chairs for decades. All the  items produced by ZarifaUSA provide an excellent massage with guaranteed positive results.

Deciding to invest in a Shiatsu massage chair for your own home is a step towards improving your overall health and wellbeing. This device can help with relaxation, mediation, and pain relief. Returning home after a long, tense day, suffering from back or neck pain, or feeling fatigued in general? A massage can help you to feel refreshed and relaxed and can soothe away those body aches.

Our inventory is available in a range of prices, shapes, sizes, and different functions. Our premium deep-tissue massage chairs for sale have enhanced features and controls that help you tailor your experience to your specific needs and wants. We can help you find the perfect chair.

At ZarifaUSA, we are proud to provide all the modern massage chair models with supreme durability and reliability. ZarifaUSA is one of the foremost massage chair manufacturers in USA. Our prices, quality, and friendly customer support service is simply unparalleled.
When your body feels tense and tired, there's nothing like being to sit in your massage chair and relax all that stress and tension from your muscles and unwind. But short of visiting a masseuse to get a professional massage, few options available will give that same satisfaction level. And let's face it, you don't always have time to visit a massage therapist. That's where the massage chair comes in. What was once reserved for the elite has now found a place the homes thousands of satisfied customers.

A massage chair is completely different from a sofa or recliner. They are essentially chairs with mechanisms built-in to massage and relax your muscles through vibrations and heat. From their exterior design, they're similar to what you'd see in a recliner. But there is much more going on under the cushions than just stuffing.

To appreciate all the benefits of your beautiful new piece of furniture, you need to choose the massage chair that works best for your lifestyle and physical therapy needs. We offer chairs that are designed to fit your budget and preferences. Check out our massage chair buying guide to see our models and find one that fits you perfectly.
Massage Chair Quick Buying Guide

Buying a full-body massage chair which is perfect to meet your needs and not too expensive may not be as much it first sounds. There are a few things that you need to look out for as you plan on getting the right chair. Here are listed and described a few things that you should be considering.

Finding the right size chair

You need to find the right size massage chair that fits you comfortably and nicely. This means it shouldn't be too snug or too large. A perfect fitting chair promotes a better massage, so make sure that you consider this factor as you choose your massage chair.

Massage Chair Materials

Quality Shiatsu massage chair materials will not easily wear out by regular use, knocks, movement and cleaning. Some of the most common and preferred choices for massage chairs are vinyl, leather, wood or a faux leather etc. It's important to properly inspect the material for durability. Leather is preferred over vinyl and faux leather; however vinyl is often easier to clean and requires less maintenance.

Massage Chair Color and Style

We want you to be happy with your massage chair's look and feel and how it fits in with your home décor. Before purchasing a massage chair, make sure it matches the style of the room that it'll reside. Is your room style modern, traditional or contemporary? We offer a variety of color options that compliment a variety of furniture and room styles.

Massage Chair Comfort Features

The most important comfort feature when selecting a massage chair is the seat. Your seat should be comfortable and relaxing with no pressure points. Fabric plays a factor too. Avoid a selection that feels too chilly in the winters and not too hot in summers. Consider purchasing a massage chair with a soft type of fabric which doesn't stick to your skin or cause any other type of discomfort. Some fabrics can stick to your suits, while others can get you sweaty. The easiest way to gauge fabric quality and comfort is to schedule a consult at our office. 

Massage Chair Ease of Cleaning

Keeping any piece of furniture clean can be a difficult task, especially with furry friends and young children at home. Some fabrics can easily stain while lower quality fabrics fade quickly. For ease of use and peace of mind, we recommend purchasing a chair that is easy to clean and maintain. It is best to buy a massage chair that doesn't easily stain or get dirty.
Theraputic Heating
You can enjoy a comfort massage with heat therapy. This heat is very useful in stretching the soft tissue of your muscles providing your comfort from pain relief. Since the warmth from the seat improves the blood flow of the body, it supports the process of healing and boosts the lymphatic system, thus is quite beneficial to health.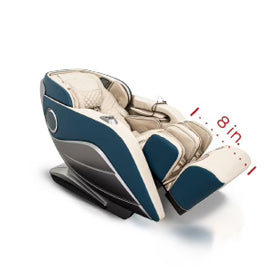 Flexible Leg Extension
Coming with a sliding in and out option, up to 5.5 inches, this foot massager is an effective choice for users as the height is adjustable. This offers the users a customized and relaxing foot and leg massage anytime. This adjustable leg extension with the feature of sliding in and out provides you the option of enjoying the massage as you like it!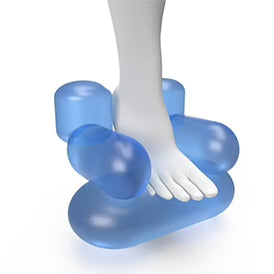 Ankle Grip Feature
This special set-in ankle gripping cradles make sure your foot is in place as you massage your calves, ankles and foot soles. While your ankle is set in place, you can ensure to enjoy your massage without worrying about positioning it.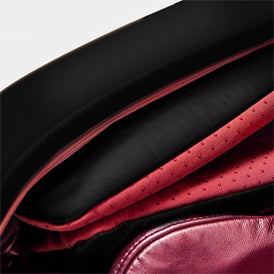 Superior Leather Quality
Being made of the best leather quality, you can sit back and relax without worrying about its durability and guarantee. It is made to last long no matter how often it is used.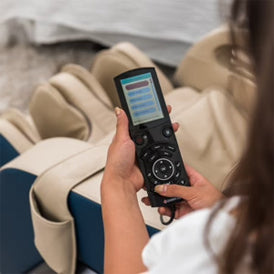 Personalized Controls
For your comfort to ensure that you enjoy a massage that you love, there are 22 adjustable massage modes. As you get to choose the mode that suits you best, you can get the maximum benefit.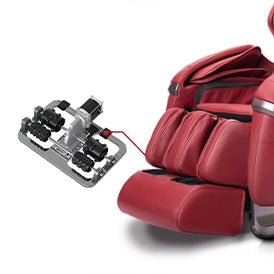 Reliable and Durable Motors
Designed with the most high-quality motors, these massage chairs are designed to last long and ensure delivering the best, deep and relaxing massage. Yes, that is what many massage chairs like Zarifa have to offer. Complete relaxing massage!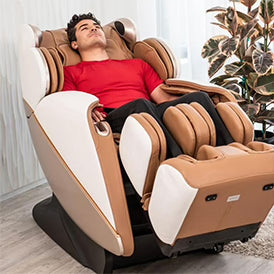 Mutiple Massage Positions
Massage Rollers offer accurate massage to different points of your back, arms, legs and feet. Coverage is comprehensive and fits a variety of body types.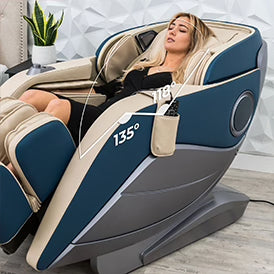 Zero Gravity Feature
Legs extend 135° and Spine stretches along 118° line creating the feEling of weightlessness.
Why Do You Need a Massage Chair?
When purchasing a Massage Chair there are many factors to consider when it comes to features, materials, build quality and more. The biggest factor though?

One of the main reasons you need it, is, of course to relax your muscles after a tiring day of work. Our Zarifa massage chairs give you a completely customized form of a massage that you can easily customize based on your needs and wants. Like we mentioned in the features earlier, with almost 20 or more adjustable modes, you can create your personal massage based on your requirement. Heated massage and zero-gravity technology are game changers when it comes to relieving stress on your back. The zero-gravity technology found in our Zarifa USA massage chairs allows you to invert your seating position and acts as a spinal decompression tool.

A massage chair is an investment in your health, and typically pays for itself within a year compared to regular massage therapist visits. Anything that you do for your wellbeing should never be considered a waste of time and money.

Our collection of full body massage chairs allows you to completely customize your  massage experience every time you sit down. With over 20 settings to choose from, you can create a personalized massage each time you use it. 
Why Zarifa USA Massage Chairs? Besides our high-quality massage chairs being FSA/HSA eligible, there are plenty of other reasons behind considering Zarifa USA, here are some of the worth while features of our products that make us different from our competitors.
• Cost Efficient
• Reliable and Durable
• Reasonable Prices
• Friendly Customer Support
Promising Results
• Wide Range of Products
• Easy to Use Products
• Reduces Fatigue and Tiredness
• Promotes Muscular Strength
• Special Discount Offers
Remember, you should always make a decision carefully after identifying your requirements. If you are puzzled between multiple massage chair models, don't hesitate to contact the dedicated customer support team of ZarifaUSA. We will suggest to you the most appropriate product with our expertise.
About Massage Chairs
Discover the ultimate comfort and relaxation for your muscles while getting relief from chronic body pains with a reliable and well-built ZarifaUSA massage chair. Choosing a massage chair can be one of the best decisions you make for your sore body. To learn more about the benefits and features of massage chairs, explore further.
Is A Massage Chair Right For You?

Massage chairs are an excellent addition to your wellness routine, providing a convenient and effective way to soothe your sore muscles, alleviate pain, and relax your mind and body. Whether you suffer from chronic back pain, arthritis, or simply want to unwind after a long day at work or play, a massage chair will provide the ultimate comfort and relief.

A ZarifaUSA massage chair is designed to mimic the motions of a professional massage therapist, utilizing a range of techniques and settings to target specific muscles and areas of the body. Many models offer customizable programs, allowing you to adjust the intensity, duration, and type of massage to meet your individual needs.

With regular use, a massage chair can offer many health benefits, including improved circulation, reduced stress, and better sleep. It can also be an effective way to manage chronic pain and promote faster recovery from injuries.

Ultimately, whether a massage chair is right for you depends on your individual needs and preferences. However, for many people, investing in a high-quality massage chair can be an excellent way to prioritize their health and wellbeing, and enjoy the benefits of regular massage from the comfort of their own home.
How do massage chairs work?

Massage chairs work by using a combination of motors, gears, rollers, and airbags to simulate the various massage techniques and movements of a human massage therapist. The chair's mechanics create a multi-dimensional movement that targets specific areas of the body, such as the neck, shoulders, back, arms, and legs.

Zarifa USA massage chairs come equipped with various settings and modes, which can be programmed to provide a range of massage techniques, including Shiatsu, kneading, tapping, rolling, and stretching. These settings can be adjusted to meet individual needs, such as intensity, speed, and duration, allowing the user to customize their massage experience.

The massage chair's rollers, which are often located in the backrest, perform the majority of the massage movements. These rollers move up and down, side to side, and in a circular motion to create different massage techniques, such as kneading and rolling.

Additionally, massage chairs use airbags and compression techniques to create a gentle squeezing motion, which helps to promote circulation, relieve tension, and reduce stress in the muscles. Heat therapy is also a common feature in many massage chairs, providing added relaxation and relief for sore muscles.

Overall, the combination of these various techniques creates a comprehensive massage experience that can help to alleviate pain, reduce stress, and promote relaxation and wellness.
How much space does a massage chair require?

The amount of space required for a massage chair depends on the specific model and its dimensions. Massage chairs come in a range of sizes, from compact models that can fit in small apartments or offices to larger, full-body chairs that require more space.

As a general rule, you should allow at least 2-3 feet of clearance space around the massage chair to ensure that it can fully recline and move through its range of motion without obstruction. Additionally, consider the height and width of the massage chair, as well as any additional features such as footrests or side tables, when determining the amount of space required.

Before purchasing a massage chair from Zarifa USA, it's a good idea to consult with our team and measure the space where you plan to use it and compare it to the dimensions of the chair.

Some massage chairs are designed to be space-saving such as our folding massage chairs, with a more streamlined design that takes up less room. Others may have a larger footprint, with a bulkier design that requires more space.

When considering space requirements, it's also important to think about accessibility and ease of use. Make sure that the massage chair is positioned in a location that is easy to access and use, with enough space around it to move comfortably.

Overall, the amount of space required for a massage chair will depend on the specific model and its dimensions, as well as individual preferences and the layout of the room where it will be used. Taking the time to measure the space and consider accessibility and ease of use can help ensure that you select a massage chair that fits your needs and space requirements.
How often should I use a massage chair?

Of course, the frequency in which you should use a massage chair depends on your individual needs and preferences.

Some people find that using a massage chair for just a few minutes each day provides significant relief from chronic pain and tension, while others prefer to use it more sparingly, as needed.

Generally speaking, experts recommend using a massage chair no more than once or twice a day, with each session lasting between 15 and 30 minutes. Prolonged or excessive use of a massage chair can result in overstimulation of the muscles, leading to soreness or discomfort.

It's important to listen to your body and avoid using the massage chair for too long or at too high an intensity. If you experience any discomfort or pain during a session, stop using the massage chair immediately and consult a healthcare professional if necessary.

In addition to using the massage chair regularly, it's also important to engage in other healthy habits that promote relaxation and stress relief, such as regular exercise, healthy eating, and getting enough sleep. A massage chair can be a great tool for supporting your overall wellness routine, but it should be used in conjunction with other healthy habits for maximum benefit.
What features should I look for when buying a massage chair?

When buying a massage chair, there are several features to consider to ensure that you get the most benefit from your investment. Here are some of the key features to look for:

Massage Techniques: Look for a massage chair that offers a variety of massage techniques, including kneading, rolling, tapping, shiatsu, and stretching. This will provide a more comprehensive massage experience and allow you to customize the massage to your individual needs.
Adjustability: The massage chair should be adjustable to accommodate users of different heights and body types. Look for a chair with adjustable rollers, footrest, and recline options to ensure maximum comfort and effectiveness.
Intensity Levels: Choose a massage chair that offers multiple intensity levels so you can adjust the massage to your desired pressure level. This is especially important if you have sensitive areas or injuries that require a gentler massage.
Heat Therapy: Many massage chairs come with heat therapy features that can help to relax muscles and provide deeper penetration. This feature can be especially helpful for those with chronic pain or stiffness.
Air Massage: Air massage features use airbags to apply pressure to different parts of the body, providing a gentle squeezing motion that can help promote circulation and relieve tension.
User-Friendly Controls: Look for a massage chair with user-friendly controls that are easy to operate and customize. This will make it easier to get the most benefit from your massage chair without feeling overwhelmed by complicated settings.
Durability: Choose a massage chair that is well-built and made with high-quality materials to ensure durability and longevity.
Warranty: Make sure the massage chair comes with a warranty that covers any defects or malfunctions. This will provide peace of mind and protect your investment in case of any issues.

Overall, when buying a massage chair, it's important to consider your individual needs and preferences. fortunately, Zarifa USA massage chairs have the features you want and desire for a relaxing massage in your home.