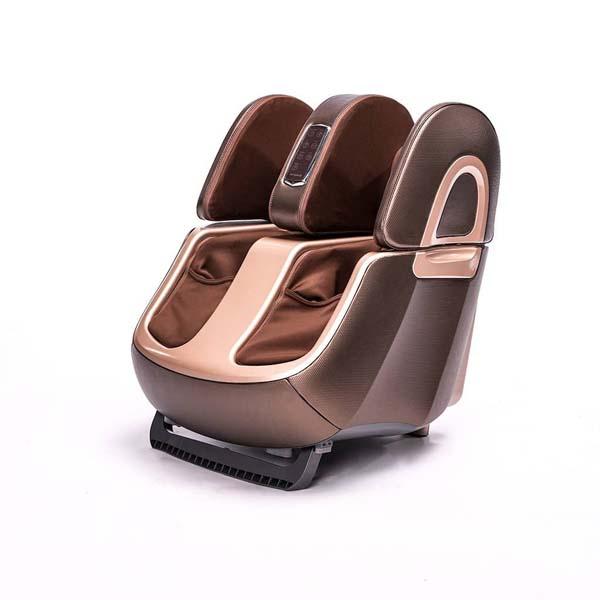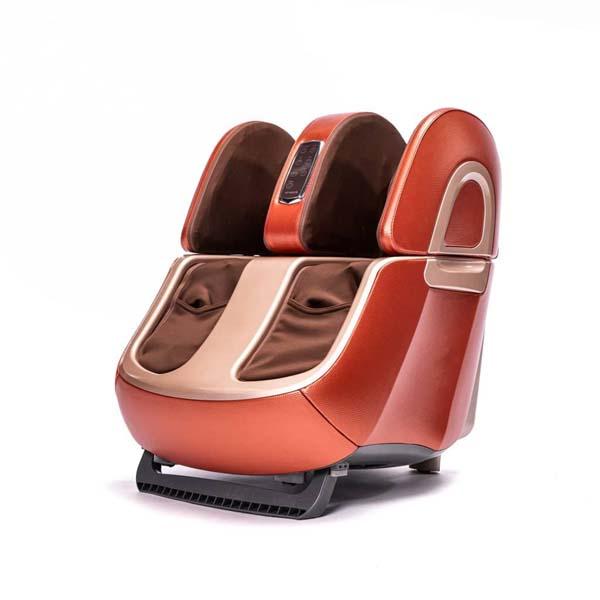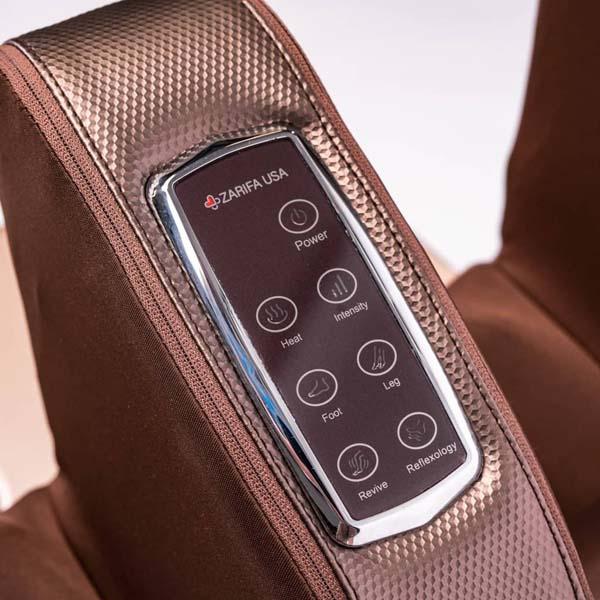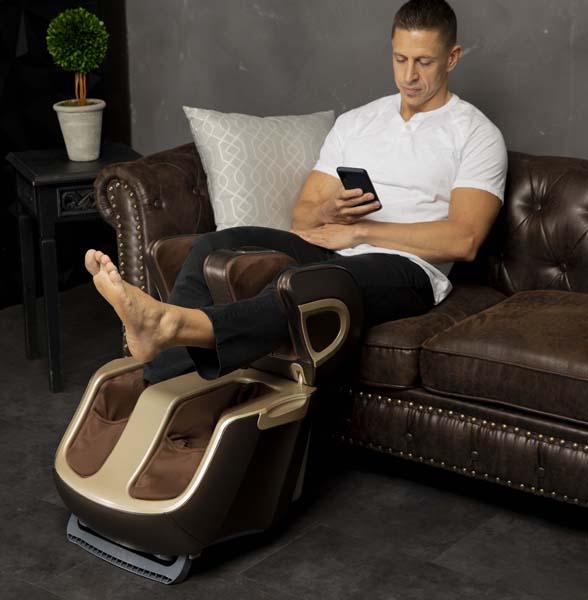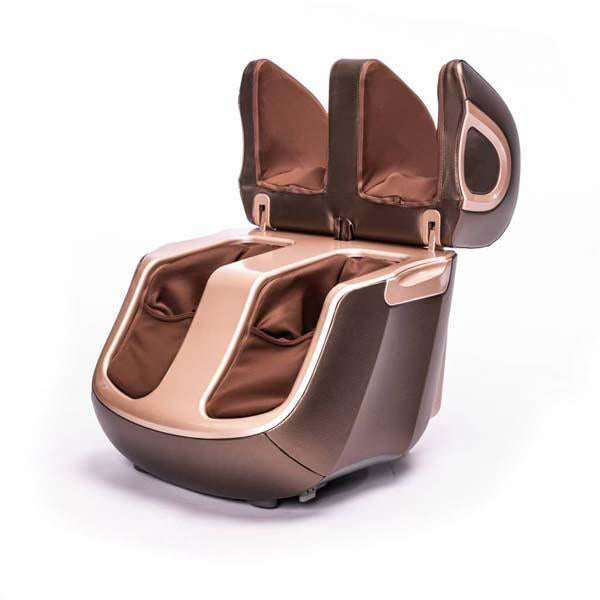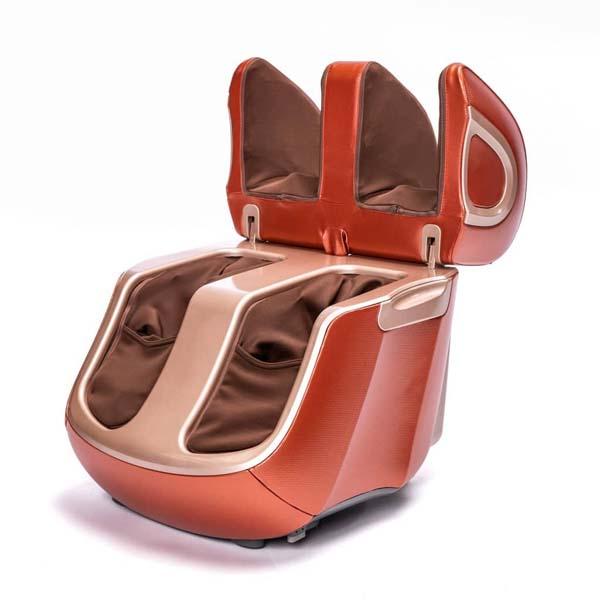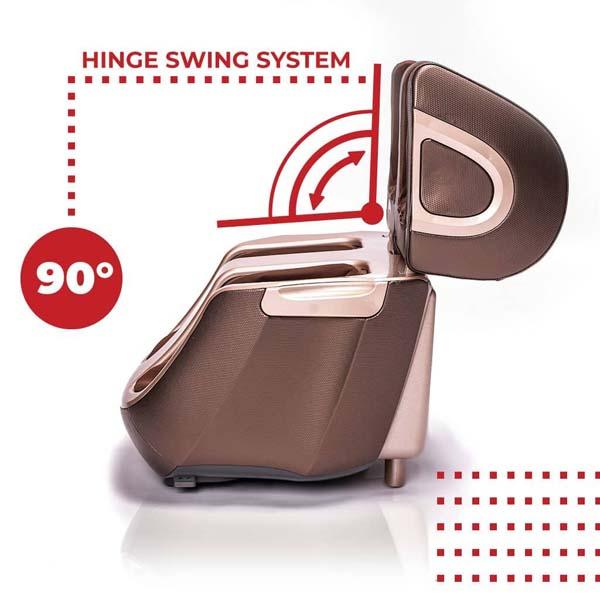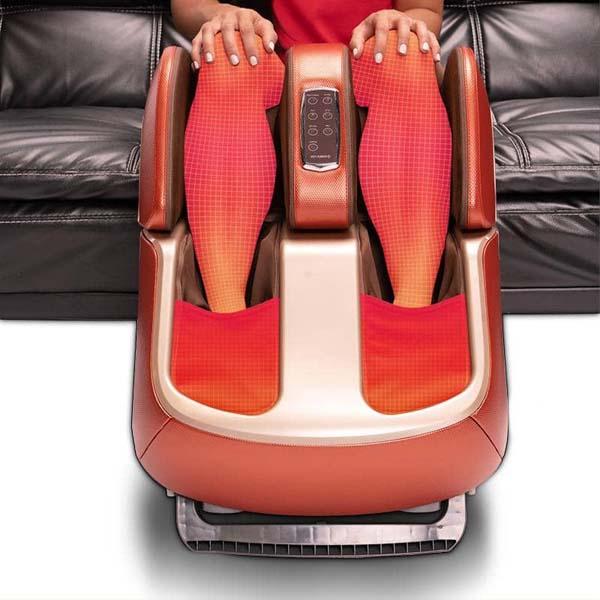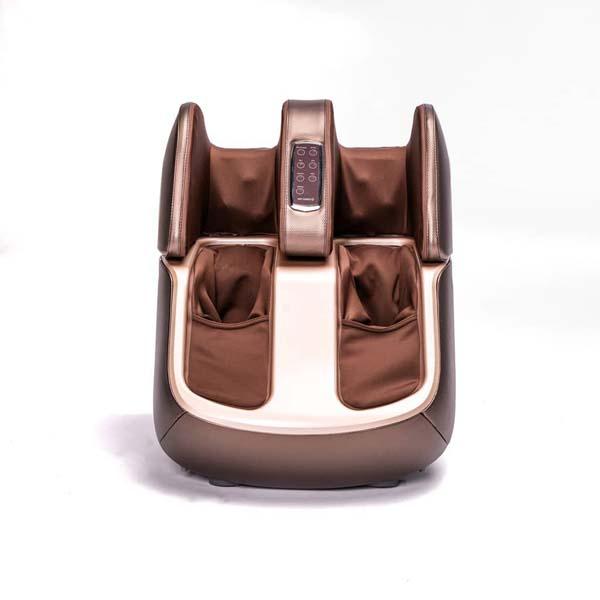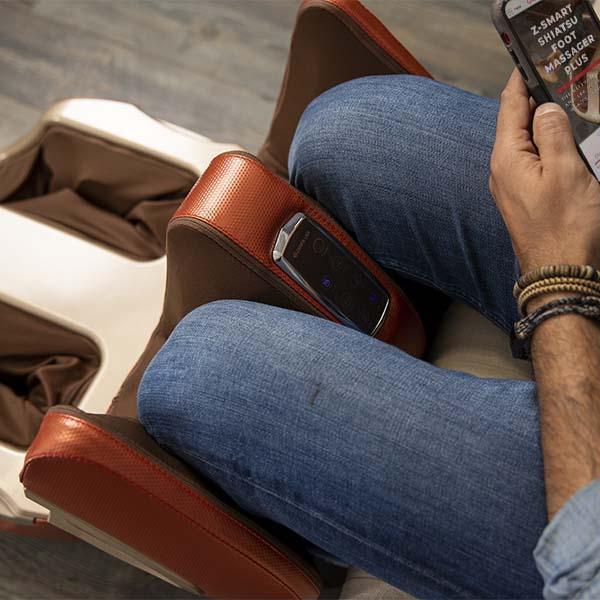 Foot Massager+
Foot Massager Plus is HSA or FSA Eligible
The Z-Smart Foot Massager Plus is the Flagship heated Shiatsu foot massager. Acting as a standalone massage ottoman, the Plus massages away at your feet calves knees and even upper thighs using the Swing Hinge Feature.
You are able to use your HSA or FSA to purchase this product.  Product Risk Mitigation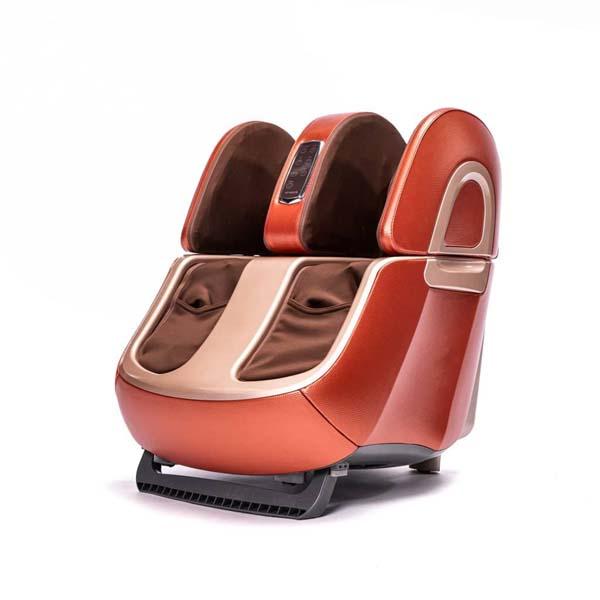 Foot Massager+ Features
Quiet Tech
Ultra quiet massage motors are strong, durable and allow you to relax in peace.
Multi Directional
Massage rollers move in multiple directions for full foot massage.
Upper Thigh Massager
Improve blood circulation, break down sore muscles and help prevent deep vein thrombosis with massage airbags and rollers that feel like real hands.
Foot Ankle Massager
Stiff ankles and joints suffer from a build-up of scar tissue that can only be remedied with deep tissue massage. The joint massage feature in our shiatsu foot massager machine with heat helps keep you mobile.
Knee Massager
Prevent future medical issues and tears with the knee rolling function. Relaxes tense muscles and stimulates blood flow to remove dull aches and pains.
Leg Massager Press
he leg press function relieves calf muscles and massages surrounding tissue.
Auto Shut Off
Massage with Peace of Mind as Auto Shut off prevents electrical surge.
Shiatsu Foot Massager
Improve circulation, balance and better stimulation in the feet with the electric Foot Massager rollers. The electric foot massager rollers help with Plantar Fasciitis and Peripheral Neuropathy.
Overview
Say goodbye to foot pain forever with the Zarifa Z-Smart Shiatsu Foot Massager+. It targets scar tissue, prevents knee injuries, and improves blood circulation for a pain-free experience. Our foot massager provides full leg coverage, loosening muscles and relieving cramps. It's equipped with heating, a removable cover, transport wheels, and more. For additional relief, try our Z-Smart Massage Gun.
How long should I use the Foot Massager Plus?

We recommend using the Z-Smart Foot Massager Plus for 20 minutes. You are able to use the foot massager repeatedly, but we don't recommend using the massager for more than a total of 60 minutes as muscles will become very strained
How do I clean my Foot Massager Plus?

To clean your Z-Smart Foot Massager Plus, take the following steps:

• Turn off and unplug your Foot Massager Plus

• Wipe leather down with a dry microfiber clothe

• Unzip the fabric inserts from your Foot Massager Plus

• Wash the fabric inserts by hand or place in the washing machine

• Re-install the fabric inserts for your Foot Massager Plus and zip up

When not in use, place the Z-Smart Foot Massager Plus out of direct sunlight and if possible cover the massager with a breathable material to prevent dust build up
How do I use the Foot Massager Plus to massage my thighs?

To massage your thighs, open the swinging hinge design of the Z-Smart Foot Massager Plus. Once open, ensure that your thighs are located in the wells of the massager. You can either place your feet inside or outside the foot wells of the massager. You can use any massage mode other than foot to massage your thighs. You well be able to utilize compression all around the thigh while the 3 nodes massage the back of the thigh
How much does the Foot Massager Plus weigh?

The Z-Smart Foot Massager Plus  weighs 49.5 lbs and has 4 rollers on the bottom of the massager. To move the massager you may lift or roll the unit
What size foot is the Foot Massager Plus made for?

The Z-Smart Foot Massager Plus can accommodate feet sized 7-13 US Mens. Feet smaller or larger will find discomfort in the Foot Massager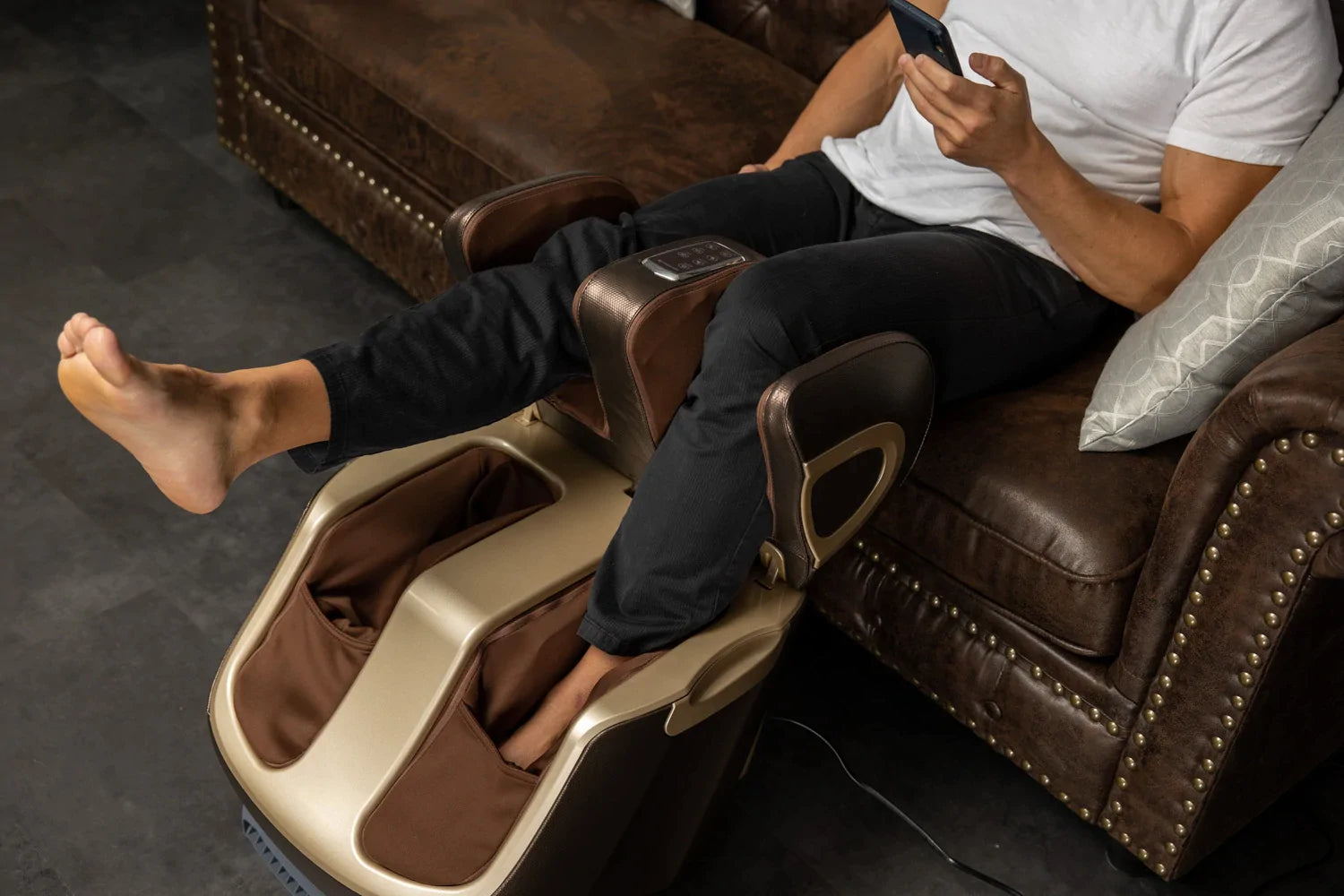 Revitalizing Foot Massage
Start Your Day Off With a Revitalizing Foot Massage.
Jade Stone Full Leg Heating
Although some massage therapists and clients may consider this to be a trend, the use of stones and gemstones for healing purposes dates back thousands of years. Jade Heating shiatsu foot massager machine with heat helps with the following:

Reduce Pain and Stiffness, Treat Arteriovenous Fistula, Reduce Back Pain, Treat Allergic Rhinitis, Improve Motor Function, Reduce Blood Pressure Levels
Leg Swing Massager
90° Hinge Swing System For Full Leg Coverage

Your leg's are more than Calves and Feet. The swing hinge by Zarifa Shiatsu Foot Massager machine with heat, allows you to loosen stiff muscles and cramps in your upper quadriceps and knees for increased comfort and mobility.
Full Foot and Leg Massage Coverage
Massage airbag and 3D Shiatsu Massage nodes offer comprehensive coverage of all possible pain points. Covers Ankles, Heels, Soles of Feet, Calves, Shins, Knees and Quads. Multiple massage rollers and air bags massage away pressure points for maximum stress relief.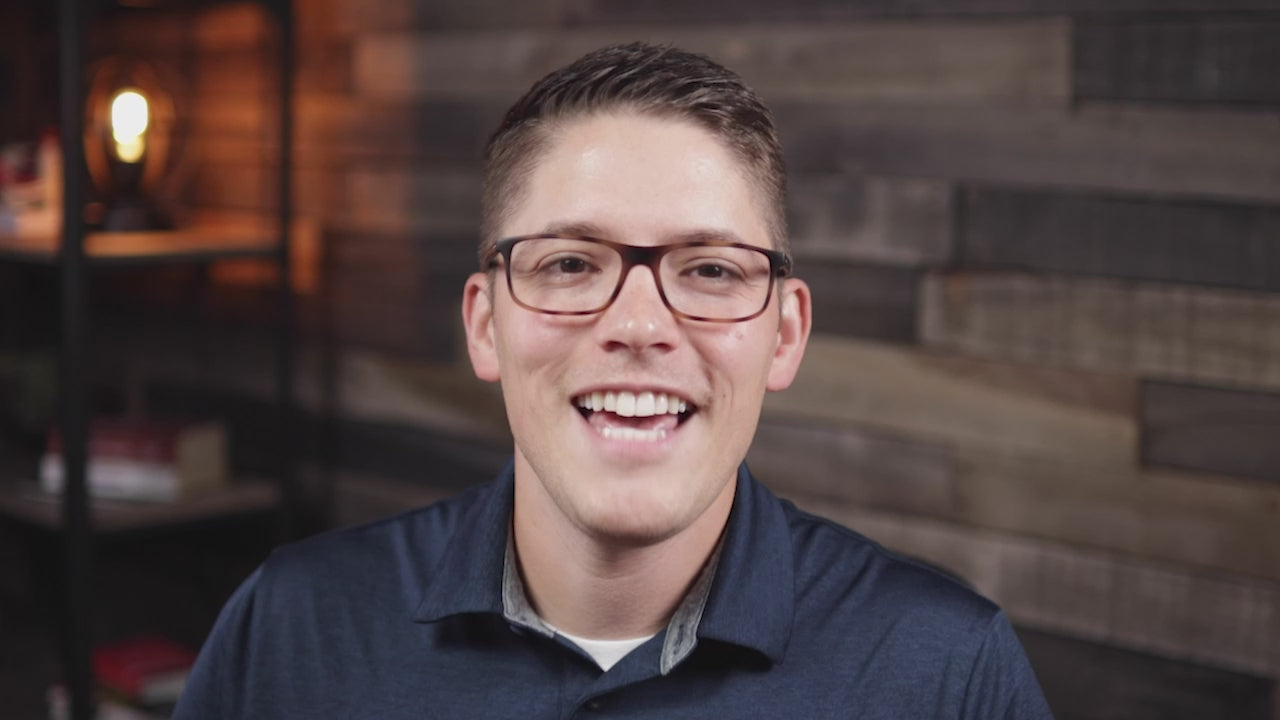 Foot Massager + Review by a Physical Therapist
Simple and Powerful Techniques in Shiatsu Foot Massage
There are many massage techniques for many types of pains, aches, and symptoms. We've included the most important and impactful techniques in the Foot Massager +. Multiple massage rollers and air bags massage away pressure points for maximum stress relief.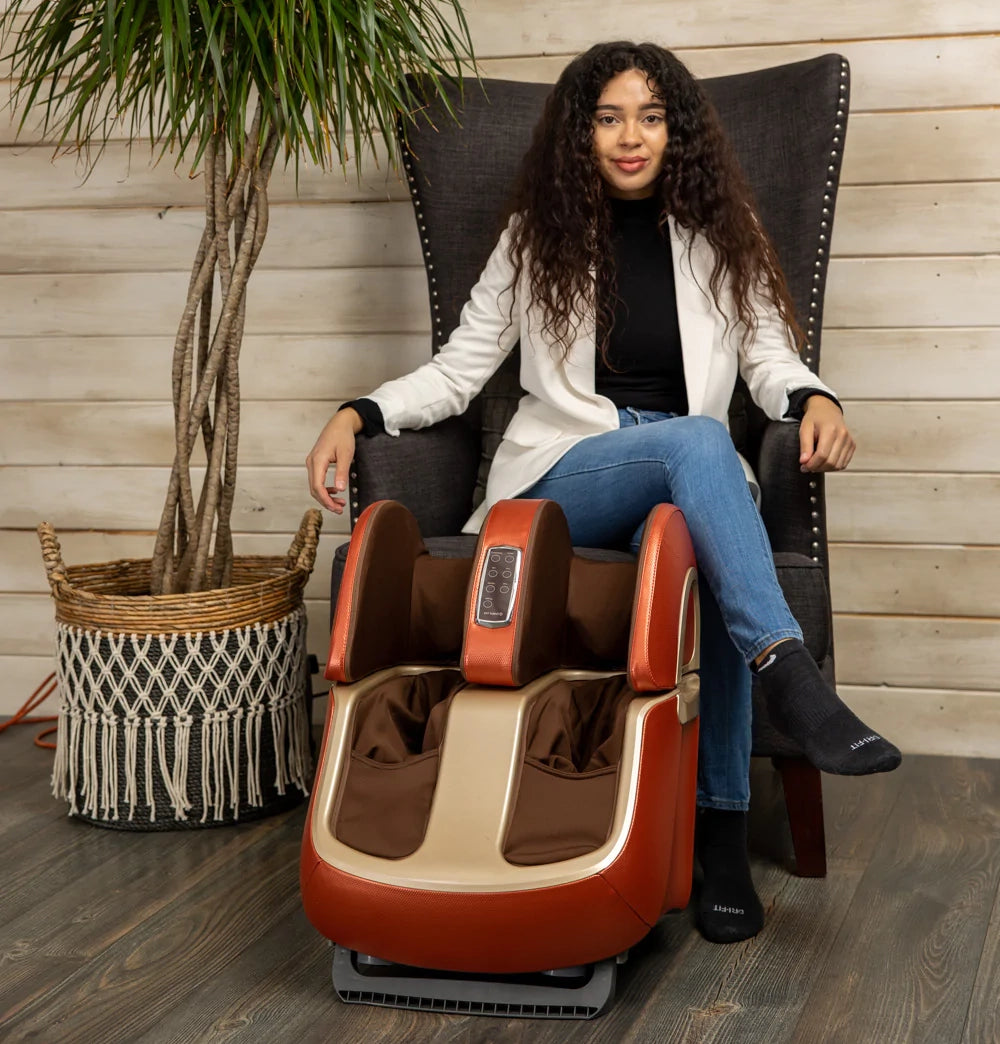 All the Benefits of a Massage Therapist
Settle in and relax with friends and loved ones without sacrificing your physical health and mental well being. Avoid costly and routine massage therapy sessions with your own Zarifa Foot Massager Plus.
3D Shiatsu Massage Rollers
The Massage roller system is designed to apply pressure like real hands. The rollers massage side to side as well as in and out on the calves, feet and thighs to provide deep tissue relief.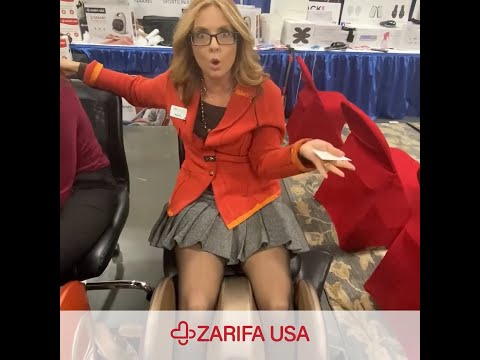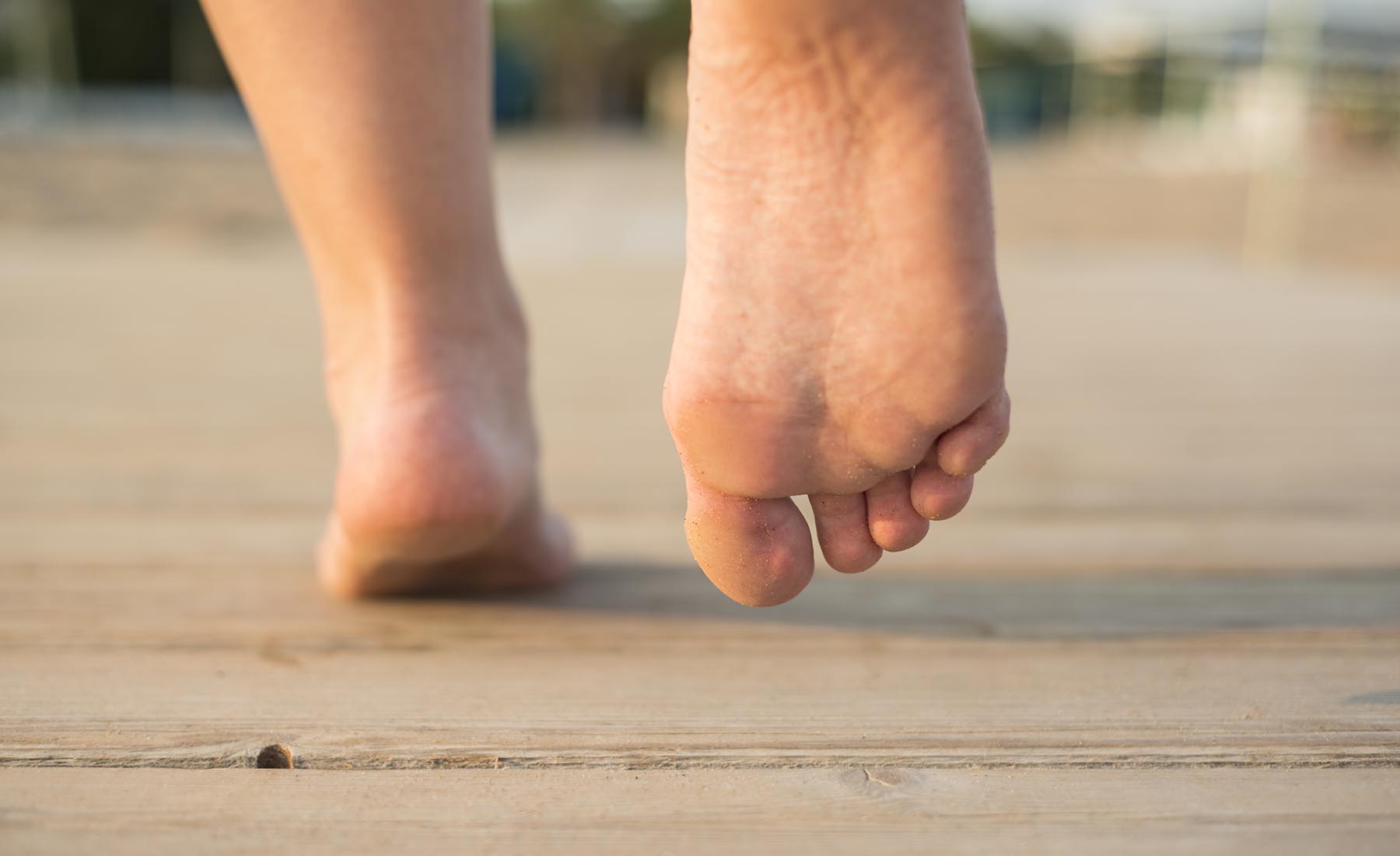 Peripheral Neuropathy and Foot Massage 
Many studies and many people have proved that massage therapy, specifically foot massage, provides some definite relief from peripheral neuropathy. We will go into greater detail later in this arti...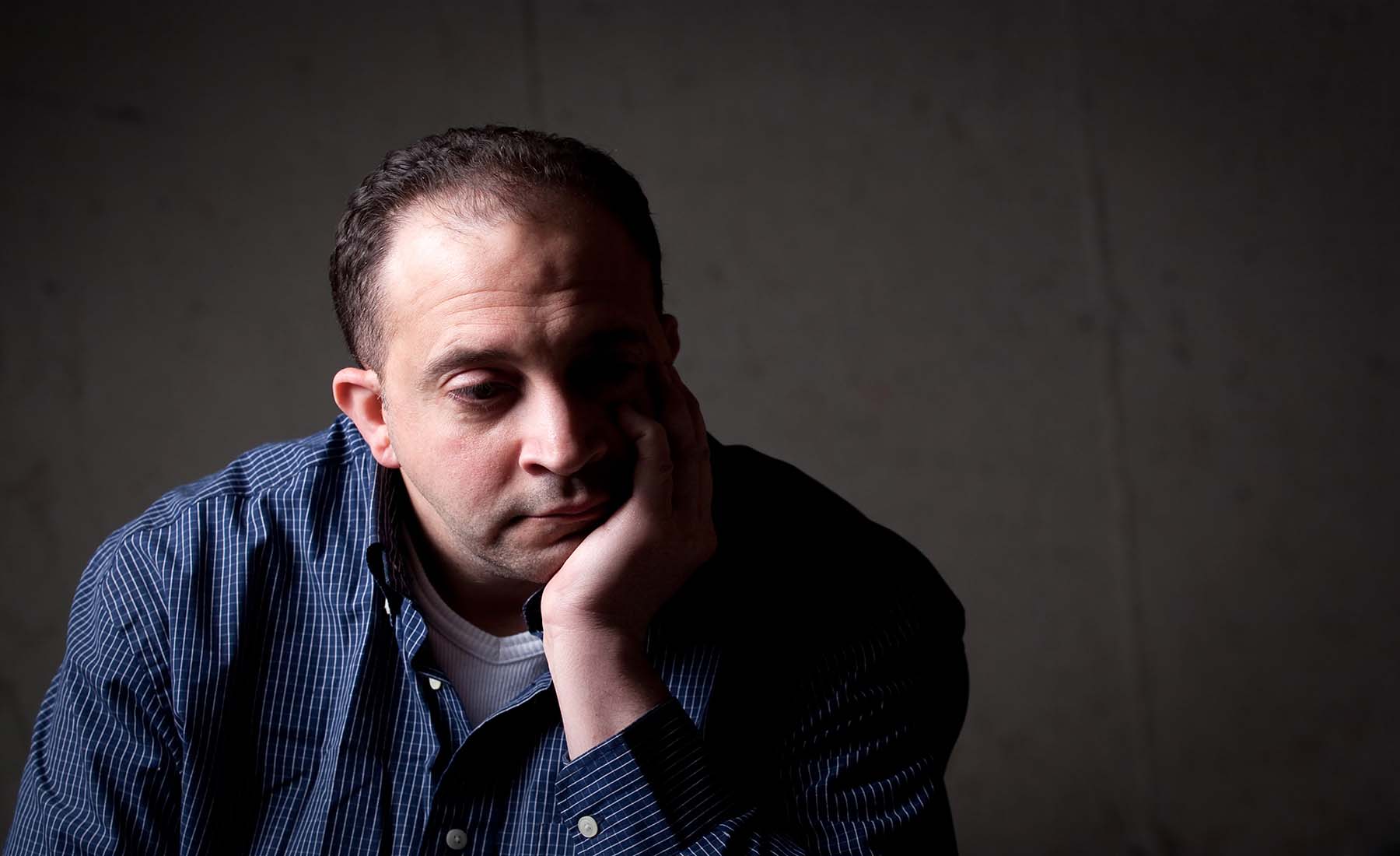 Natural Mood Enhancers for Depression
Non-medicinal mood enhancers for depression are bountiful in nature, in friendships, with our animals, in creating or appreciating others' creations, exercise, massage, caring for others, etc. The ...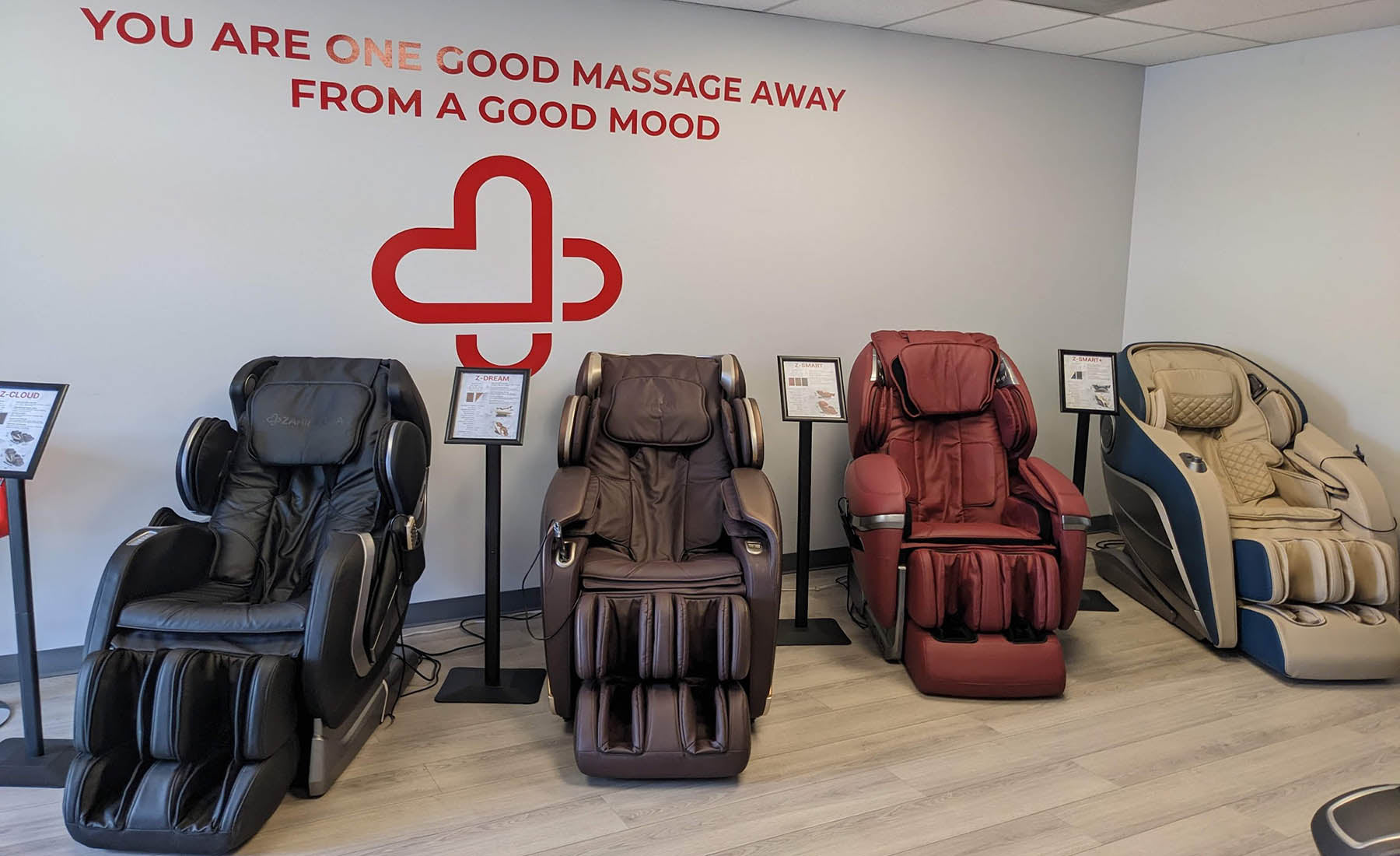 How to Maximize Your Massage Chair Massager Buying Experience Recently, we welcomed customers back to our newly revamped showroom. Our team worked diligently to create a space where our visitors c...